Got an specific painting idea for a horse hitch or just want to have some fun with arts and crafts? Here's your chance. Our unfinished hitching post comes fully assembled as shown above and ready to prime and paint the color of your choice.
Painting a cast aluminum horse hitch is pretty much like painting a car. You can paint the whole hitch one color or multiple colors, paint the shaft like an old barber pole, detail the eye balls, flared nostrils, and mane on the head... take your imagination is the limit!
Garden art looks best painted with "heavy" brush strokes for a look that will age gracefully. Depending on how complex you want to paint the hitching post, it takes about 3-7 days of priming, paint-layering and touching up to make a nice looking finished product. We send a one-page instruction sheet with what supplies, paints, and techniques work best in painting wrought aluminum statuary.
Surface preparation is key. We ship the statues with a clean bare metal and bondo surface. The first task to painting a horse hitch is spraying on 1 can of primer. Primer color should be close to paint color(white or gray primer for lighter colors, and red or black primer for darker colors). Then slowly paint one area of the statue at a time, repaint, then touch-up... and you will have a very nice, long-lasting paint job. The key for first-timers is to TAKE YOUR TIME and WORK SLOW!
It usually costs over $100 in paint and materials to paint an unfinished horse hitch when you add up all the paint, brushes, tarps, and cleanup stuff needed, in addition to about 4 hours of painting and detailing labor(while breathing paint fumes and splattering paint everywhere!). Or you can let our painting experts do all the hard work by
BUYING A STANDARD BLACK HITCH ALREADY PAINTED
or by
ORDERING A CUSTOM-PAINTED HITCH
using our convenient online order form.
Hitching posts add the finishing touches of decorator perfection to your yard, porch, patio or stoop. Horse hitching posts can be used for their original purpose of tying a horse and have unlimited uses at your home, business, or stable. Hitches make great christmas gifts for all the horse lovers on your list and make wonderful house-warming and birthday presents year round.
Use horse hitches at entrance gates, buy several to border a trail or terrace linked together with a chain, set them next to
a matching jockey hitching post
, anchor them in concrete to use as bollards for preventing vehicle access, or wire them for electricity and light a walkway or entrance. A removable steel ring is included for the horse's mouth- you can also hang a sign, flower basket, or lantern there too. Units are hollow and can be easily drilled through for adding electrical wiring for lights, etc.
INSTALLATION
Depending on whether your use for the hitching post is decorative or functional, there are 3 basic options for installation. The hitching post can stand by itself on it's base, but is usually permanently glued to concrete for decorative use(epoxy paste kit included), or anchored to a concrete base with mechanical attachments(4 holes need to be drilled) or embedded into a hole in the ground or wet concrete for functional use.
CLICK HERE
for installation details.
DIMENSIONS
Approx 44" tall. Outside dimensions of base are 8" x 8".
SHIPPING
Ships by Fedex Ground in cardboard box. Shipping wt. 30 lbs. Free ground shipping to CONTINENTAL US only. Time from order placement to delivery is approximately 1 week.
CONTACT US
for international and other shipping options.
CLICK HERE
for In Stone Terms and Conditions.
WHAT'S IN THE BOX:
1. Unfinished wrought aluminum horse hitching post with removable steel ring bridle bit and painting instructions
2. Epoxy paste installation kit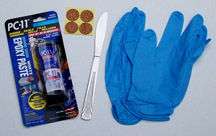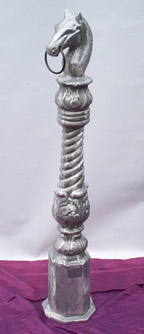 Credit Card Checkout
PAYMENT METHODS:
American Express, Discover, MasterCard, Visa and paypal accepted.
PROCEDURE:
We will send you an email receipt for your payment immediately following order placement. Upon shipment, we will send you an email with shipping information. Time from order placement to delivery is approx. 1 week for unfinished and stock black hitches, and 2 weeks for custom hitches.
UNFINISHED HORSE HITCH WITH INSTALLATION KIT AND FREE SHIPPING $225





Click "BUY NOW" button below to order. A shopping bag will appear on the bottom right of your screen. You can checkout by clicking the shopping bag

, or add other items then click the shopping bag when your order is complete. To delete items from shopping bag, click the shopping bag and then click the X in the upper right corner of item image you wish to delete

---
Alternate checkout: Click the "BUY NOW" button below(NO PAYPAL)
---
Alternate PHONE checkout
For you prefer to order by PHONE rather than order online, CLICK HERE to contact us.

---
RELATED LINKS
CLICK HERE
to order a CLASSIC BLACK horsehead hitching post.
CLICK HERE
to order a CUSTOM PAINTED horsehead hitching post.
CLICK HERE
to order a LAWN JOCKEY hitching post.