Your Victorian estate, ranch, main street business, or stable is not complete... without a glossy black horse hitching post out front! A black hitch adds a touch of matchless charm and distinction to your lawn, garden, patio, or storefront. Those with a discriminating taste for beauty and quality will instantly appreciate the timeless design and character of this historical statue.
The classic black horsehead hitch blends in with any yard, entry, or garden and stands as a greeting to all who pass by. It is painted with gloss black oil-based enamel- the same kind of paint used on farm machines that are used a lot and face the elements. Paint is chip, fade, and UV resistant and will last for many years. The statue itself is made of non-rusting Aluminum so it too will last for generations. Like most statues that stand outside of government buildings and in town squares, black is popular color because it is basically maintenance-free. Our classic black horse hitching post continues this tradition in style: it doesn't show dirt, the gloss finish cleans easily, surface imperfections are hidden, and the black finish doesn't fade in the sun like other colors.
Heirloom quality design, materials, and workmanship...
100% hand-painted in the USA!
Our craftsmen are highly skilled and take pride in manufacturing these fine metal sculptures out of the most durable materials. Unlike items made of cheap poly resin with wash-off paint mass-produced in China that are designed to only last for months, our individually-crafted metalworks coated with TWO COATS of the highest quality hard-shell oil paint will still be in style and service for years and even decades from now.
Made with the same painstaking care as the 19th century originals
Each piece is individually hand-crafted and goes through these stages:
CASTING- in the cleanest, most sharply defined patterns
GRINDING- to remove any slag and burrs
PRIMING- for better finish adhesion and to achieve a sculptured smoothness
FIRST PAINT COATING- of hard, durable high-gloss enamel paint for years of carefree beauty
SECOND PAINT COATING- for solid, bold color and to add an extra measure of wearability
INSPECTION- at each of these stages
PACKAGING- especially designed to ensure that each piece arrives unbroken and unscratched
Hitching posts add the finishing touches of decorator perfection to your yard, porch, patio or stoop. Horse hitching posts can be used for their original purpose of tying a horse and have unlimited uses at your home, business, or stable. Hitches make great christmas gifts for all the horse lovers on your list and make wonderful house-warming and birthday presents year round.
Use horse hitches at entrance gates, buy several to border a trail or terrace linked together with a chain, set them next to
a matching jockey hitching post
, anchor them in concrete to use as bollards for preventing vehicle access, or wire them for electricity and light a walkway or entrance. A removable steel ring is included for the horse's mouth- you can also hang a sign, flower basket, or lantern there too. Units are hollow and can be easily drilled through for adding electrical wiring for lights, etc.
INSTALLATION
Depending on whether your use for the hitching post is decorative or functional, there are 3 basic options for installation. The hitching post can stand by itself on it's base, but is usually permanently glued to concrete for decorative use(epoxy paste kit included), or anchored to a concrete base with mechanical attachments(4 holes need to be drilled) or embedded into a hole in the ground or wet concrete for functional use.
CLICK HERE
for installation details.
DIMENSIONS
Approx 44" tall. Outside dimensions of base are 8" x 8".
SHIPPING
Ships by Fedex Ground in cardboard box. Shipping wt. 30 lbs. Free ground shipping to CONTINENTAL US only. Time from order placement to delivery is approximately 1 week.
CONTACT US
for international and other shipping options.
CLICK HERE
for In Stone Terms and Conditions.
WHAT'S IN THE BOX:
1. Black wrought aluminum horse hitching post with removable steel ring bridle bit
2. Epoxy paste installation kit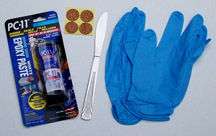 Credit Card Checkout
PAYMENT METHODS:
MasterCard, American Express, Visa, Discover and paypal accepted.
PROCEDURE:
We will send you an email receipt for your payment immediately following order placement. Upon shipment, we will send you an email with shipping information. Time from order placement to delivery is approx. 1 week for unfinished and stock black hitches, and 2 weeks for custom hitches.
BLACK HORSE HITCH WITH INSTALLATION KIT AND FREE SHIPPING $250





Click "BUY NOW" button below to order. A shopping bag will appear on the bottom right of your screen. You can checkout by clicking the shopping bag

, or add other items then click the shopping bag when your order is complete. To delete items from shopping bag, click the shopping bag and then click the X in the upper right corner of item image you wish to delete

---
Alternate checkout: Click the "BUY NOW" button below(NO PAYPAL)
---
Alternate PHONE checkout
For you prefer to order by PHONE rather than order online, CLICK HERE to contact us.

---
RELATED LINKS
CLICK HERE
to order a UNFINISHED horsehead hitching post.
CLICK HERE
to order a CUSTOM PAINTED horsehead hitching post.
CLICK HERE
to order a LAWN JOCKEY hitching post.