Before cars ruled the road, streets were set up for travel by horseback. And with high fuel prices, they could be again! Now you can be prepared with a quaint horsehead hitching post at your entrance or patio. Millions of these ornate posts were originally manufactured of cast iron in the 1800's and embedded into concrete right next to streets for actual use for tying up horses. After cars took over and horses disappeared from the road, streetside horse hitching posts became a traffic hazard. Those hitches not run over were moved away from the street and back near home and business entrances or to the patio where they became unique decorative ornaments.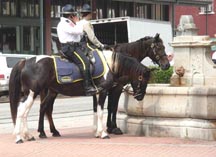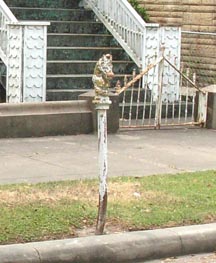 CLICK ON PHOTOS FOR LARGER VIEW

Galveston, Texas has the most restored late 1800's Victorian era homes in the country, with over 1,500 historic buildings listed on the National Register of Historic Places. Along it's cobblestone streets you can still find drinking fountains for thirsty horses still in use and actual horsehead hitches still standing(barely) at their original streetside locations.
Hitching posts were still very popular through the 1950's and sold mainly through mail order catalogs alongside lawn jockeys and other ironwork. Almost all horse hitches were originally painted black, but some were painted with different colors or two-tone to match the surrounding decor. If your favorite high school, college or pro team has a colt, stallion, or other horse-related mascot... two-tone hitches look great painted up in your team colors!
CLICK HERE
to see our wide selection of hand-painted lawn jockeys.


HORSE HITCHING POSTS MAKE GREAT GIFTS FOR HORSE LOVERS!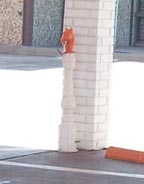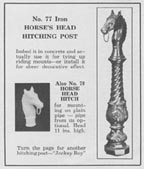 CLICK ON PHOTOS FOR LARGER VIEW

SHOWN: Old fashioned 1950's drive-in with horse hitches up front of parking spots(left 2 photos) and original advertisement from 1949 Graf-Crafts mail order catalog(right).
Horse hitch popularity faded from 1950-2000, but now these charming and distinctive lawn ornaments are making a comeback in the new millenium! Our horsehead hitch replicas are cast from the original, timeless design in sturdy,
non-rusting
real forged metal construction and painted with modern hard-shell glossy oil paints for years of lasting beauty. We ship them unfinished(you prime and paint), in stock black, or we can custom paint these hitches for you in 1 or 2-tone configuration using our convenient online order form. Hitches weigh about 25 pounds and are shipped right to your door in a cardboard box by Fedex Ground.
LIMITED OFFER: Order now and get FREE SHIPPING on all orders!
Our hitching posts feature
EASY INSTALLATION
on any concrete base with the epoxy paste kit included(no special tools or drilling required). Since they are rust-free and have a 9-inch tall base, our hitches can also be buried directly into the ground.
Travel back in time and enjoy memories of a bygone era with a horse hitching post at your home or business... order by clicking the links below or the menu buttons on the upper left column.
CLICK HERE
to order a UNFINISHED horse hitching post.
CLICK HERE
to order a CLASSIC BLACK horse hitching post.
CLICK HERE
to order a CUSTOM PAINTED horse hitching post.